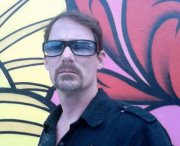 I am the founder and president of The Youth Culture Report, a ministry of
Vision 2 Hear.
I have been in youth ministry for 30+ years and a life time student in Seminary. I graduated from Knox Theological Seminary with an MA in Biblical and Theological Studies. I am ordained in the Anglican church (ACNA). My goal is to report on education, entertainment, trends, research and youth ministry to inform youth workers and parents. I want to save you time and work by bringing the latest news, a snap shot of today's youth culture. I hope you can be equipped to understand youth and make bridges for the advancement of the Gospel.
I post about 10 to 3 articles a day. I find most of them but I am very thankful for youth workers around the country who submit news articles. Feel free to send us news articles @youthculturerep (dm to X).
You may subscribe via RSS or our top 10 weekly E-Mail. Sigh up your parents to the E-Mail it's a great way to minister to them and keep them informed. If you are looking for a specific topic, use our search bar for access to over 25,000 posts. Don't forget to look at the tag cloud on the right. Follow us on Twitter and let your parents know about The Youth Culture Report.
My Biography
God called me into youth ministry at an early age. It has been His grace and the conviction of His calling sustaining me throughout the years. I currently work with Vision 2 Hear as a Missionary to youth in the US and around the world. I started my Youth Ministry career by spending my summers in Plumtree, NC at Teen Valley Ranch, a Christian camp and conference center. Believe it or not, I still take students there. Most importantly, I have been married to my high school sweetheart for the past 24 years. God has blessed us with three wonderful kids.
I have loved my experiences working within the church and para-Church youth ministry organizations. Middle school ministry has always been my favorite group to focus on. Recently, I helped restart Miami Youth For Christ's middle and high school Campus Life club ministry. We were one of the fastest growing clubs in the nation.
Vision to Hear is currently partnering with Callfm.com Radio for fundraising and development of the station into new cities. We participate in concerts/music festivals with Callfm. I helped CallFM to grow from 200,000k to 4.1 million potential listeners throughout South Florida. My home church is in Miami even if I am anywhere else in the world.
This is out of date but…